Social media has become a vital marketing tool, and video marketing is a key part of driving online engagement. For social media marketing to be effective, it is important that you develop a strategy that matches your specific objectives. Following are three types of video marketing for social media available to marketers and what they each offer.
Product Explainer Videos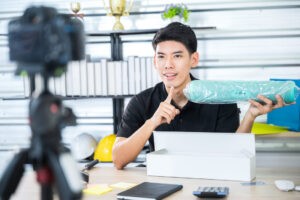 Product explainer videos are typically used to market a product or service. You can create these videos in-house or hire a creative agency to help you produce and promote the video. These explainers are more show than tell, and they usually focus on the unique benefits of the product. In many cases, voiceovers give way to onscreen text so that the video is more easily digestible. These videos can be posted on social media, and they also work well for email marketing campaigns. Product demo videos give viewers a visual tour of your product or service. These videos show the features you want people to know about, and they are helpful if you have a limited amount of knowledge about the product.
Behind-the-Scenes Videos
Hundreds of companies are now producing behind-the-scenes videos that give viewers a view into the heart and soul of their business. Since these videos are tied to a specific promotion, they can be posted on social media. Nevertheless, you should also post them on your company blog or website for viewers who don't follow you on Facebook or Twitter.
Interview Videos
Interviews are another way of visual marketing. In the past, you could only see interviews on your television. Today, however, you can find them everywhere as more people watch their favorite programs and shows online. If your company has a cool product or service that benefits others, then you should interview experts to determine how they use it and its value to their business.
Reach out to McLean Corporate Video to learn more about video marketing for social media.