Appealing to your target market is an essential part of any business. Never before have there been so many avenues to reach people, but it's becoming clear that video is the best way to engage with current and future clients. Creating innovating and captivating corporate video content is within your grasp when you hire experts to help you. With video content, you can tap into the extensive, worldwide consumer base searching for and interacting with videos online.
Video Content is the Future
Did you know that the world watches a billion hours of videos on YouTube each day? By adding your voice to the mix, you have the potential of attracting billions of people to your site. Video content is favored above all other types of content, and 85% of US internet users say that they've engaged with some kind of video content in their lives. Video as a medium also has the best return on investment when it comes to reaching and converting clients. So, it's clear. If you want to join the modern marketing world, you'll need to incorporate corporate video content into your marketing strategy.
Creating Engaging Content
Corporate video content is a must in order to keep pace in the competitive online marketplace. To get the most out of your content, consult experts to learn which type of videos will engage and convert your target audience. You can integrate tutorials, giveaways, and client testimonials in order to make your videos more click-worthy and increase engagement.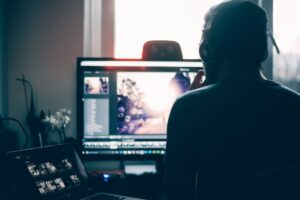 Corporate transparency is also a big hit with consumers, so create video content that lets them look behind the curtain and take a backstage tour of your company. McLean has the skills, tools, and equipment to produce, direct, and execute powerful and entertaining video content for your business.
Contact us today to find out how we can help you create engaging corporate video content for your customers.