Consumers love getting the inside scoop, and corporate video content takes viewers behind the scenes to see the inner workings of your company. It's a great way to share information about your company while deeply engaging the viewers. But it's not always easy to cultivate compelling content from your employees. After all, they're often not professional actors! But McLean Corporate Video specializes in corporate video production and knows that good customer care is the trick for making great videos.
Make the Subjects Comfortable
It's safe to say that human beings are funnier, more creative, and more approachable when they're relaxed. So, we know how to make our amateur subjects feel comfortable enough to get in front of the camera without fear. Making people feel at ease on set is our number one responsibility as videographers. We know you're not professionals, and the 'lights, cameras, and action' can often be overwhelming. We take time to make all clients feel comfortable, so we can get the best performance out of them. Our goal isn't just to create great content — it's also to offer stellar corporate video production services and facilitate our clients' enjoyment along the way.
How to Extract Compelling Content
Using your employees, staff, and executive team as the subjects in your video content will add authenticity, transparency, and a personal touch. It's a great technique for branding but can be scary for the people involved. We take the time to help direct every shot for every single person that's involved. We want to make sure that everybody understands the vision, the format, where to look, how to speak, and how to move. Involving you and your employees in the process helps put you at ease, which always results in better, more compelling content.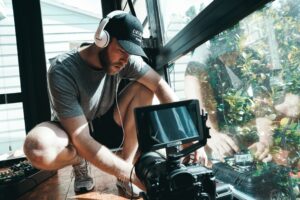 Reach out to find out how we can help you with your corporate video production. We can't wait to see your faces on the screen.